Tony Grillo
May 11th 1962 – January 18th 2010 – May God Bless His Soul
The mind behind the creation of Casino Schedule Ease.
Although confined to a wheelchair, Tony was never deterred from being the best that he could be. He overcame great odds, graduating from Holy Spirit High School with a perfect math SAT score, then on a full academic scholarship Tony graduated from Stockton State College in 1985 with a degree in computer science.
Tony held a position at Atlantic Electric after college, which he left in 1993 to found GEC Computer Systems and shortly thereafter began work on Casino Schedule Ease. Tony was taken from us in January of 2010, but his legacy lives on.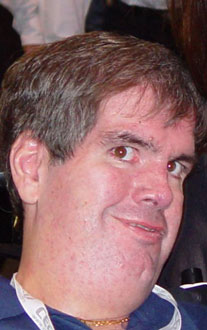 Dedication to Tony
You may or may not be aware of the very sad news regarding my brother Tony; he passed away unexpectedly on January 18th, 2010. I cannot express in words how profound of an effect this has had on our family and me.
Tony conquered every obstacle life threw at him, without ever complaining. In fact, whenever someone would broach the subject of obstacles, Tony would immediately let them know that he had none!.. He never wanted to be reliant on anyone and was an entrepreneur on so many levels. Tony was the best brother anyone could ask for. He never complained and he was always willing to give of himself, whenever he could. Tony was hard working and extremely proficient in computer programming, as I'm sure many of you are aware (aka Genius as his friends knew him). Tony moved back home to New Jersey on December 17th 2009, it was great to have him home again as we celebrated Christmas for the first time as an entire family since he left for Vegas back in 2001. We are all very grateful that he returned home. It was wonderful.
Tony's passing has been emotionally painful for all of us-family and friends. We will never forget him.
I invite you to read the article the Press Of Atlantic City wrote about Tony in 2001, this was right before he left New Jersey for Vegas, it explains much of his life and how he overcame every imaginable hurdle. The Grillo family members are better people because of Tony and it was the love of our parents and their tenacity that keep us strong.
Please keep Tony in your prayers.
Sincerely,
Kelly Grillo